At the ShipOwner's Service
In 2021, the pandemic has dominated our lives since day one making it an unusual and very difficult year for humanity and the shipping business as well.
At Marpoint, delivering our promises and always committed to exceed our customers' expectations we are excited to share with you our top 2021 highlights.

Evo2 Router / UNI Virtualization Solution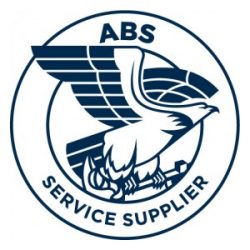 In 2021 we were proud to announce that our systems covering individual components all the way through the system and network level have achieved a Cyber Safety Class Approval from the classification society ABS.
This was achieved upon the successful class verification of product compliance with manufacturers' specifications, applicable ABS Rules, and national or international standards.
The ABS Class Approval (PDA) applies to the Evo2 Router and UNI Virtualization solution, where Marpoint's Cyber Security Solution is part of.
Being Class Approved, Marpoint Cyber Security Solution facilitates thorough vessel cybersecurity analysis, helping identify the owner's Cyber Risk Tolerance and helps control cybersecurity vulnerabilities in the supply chain.
Evo2 Router exceeds
the 2000 installations

Marpoint EVO2 Router has been a huge success providing more than 2000 vessels with a Defence in-depth approach in line with IMO 2021 independent of the satellite provider you use!
Evo2, our Class Approved and cyber secured communication management platform provides the below distinctive features:
• Establishment of a Secure Vessel Network, via our Evo2 Router Enterprise-grade firewall, web DNS filtering, application filtering, and secure VPN interconnection
• Custom rules on vessels' firewall, alerting and web filtering service
• Assets/Networks Segmentation
UNI Virtualization Solution
Driving the future for Maritime Cyber Safety
Cyber incidents in the maritime industry have been increasing week after week and there is no doubt that the industry is becoming an ever more attractive target for hackers as more ships have moved online.
The impact of unauthorized, and even authorized, access to unprotected ships' systems proved in some cases to be catastrophic.
Marpoint's Class Approved Maritime Cyber Safety solution has assisted ShipOwners and IT Managers to build their Cyber Resilience and comply with the IMO 2021 regulation

UNI, our Triple Node Cluster and IT Managed Services ensure 24/7/365 remote management of the vessel's complete IT hardware and software infrastructure and provide unique features such as:
• Triple Backup of your business files and critical applications, providing business continuity with no single point of failure, as per IMO 2021 regulation.
• Risk assessment
• Desktop Virtualization and Active Directory using Linux Thin clients
• Real-time Inventory Assets management
• Software Patching
• Cloud hosting for the endpoint
Evo News:
more than 1000 Installations
and New Features
Evo News, a mature Crew Welfare Platform, now acts as a Seafarers informational hub solving the Effective Communication problem without adding overhead on day-to-day operations.
We are so proud that Evo News has exceeded the 1000 installations!

Company Feeds – Videos
Marpoint added the option to include videos & documents in company feeds. Each video is compressed, transcoded, and optimized based on industry bandwidth standards allowing faster & more resilient uploading to fleet vessels.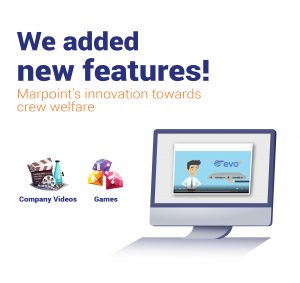 Video Games
Evo News offered access to a series of video games that the seafarers can play during their free time, at no charge and without being connected to the internet!
What an amazing R&D for Evo News in 2021!
1st Shipping-related webinar of Amazon Web Services in Greece
The first shipping-related webinar of Amazon Web Services (AWS) in Greece, was successfully held and hosted by Marpoint on Wednesday, the 14th of April, with title:
"Cloud Computing in the Shipping Industry: How to ensure your business continuity with AWS Back up and Disaster Recovery solutions"
The webinar was massively embraced by the Greek shipping community as with the IMO 2021 Cyber Risk Management regulation already in effect, shipping companies, among other, should ensure that specific measures are taken for back-up and restoration of cyber systems necessary for shipping operations impacted by a cyber-event.
Marpoint's partnering with AWS enables our customers to build and deploy a flexible and scalable backup infrastructure that protects all data types, including object, block, and file.

Further to data protection, organisations can leverage the AWS cloud services to create enterprise-grade DR at a dramatically lower cost than was previously possible!
Marpoint's Christmas 2021
Campaign for Seafarers
A Global Evo News Crew Welfare Initiative
This Holiday Season, Marpoint took the initiative and created an exciting short video that was shared with more than 10000 hard-working seafarers via their favorite Crew Welfare platform, Evo News.
This video pays a special tribute to seafarers amid these COVID-19 challenging times.
More than 50 Shipping Companies worldwide had the opportunity to present this video as their Christmas corporate video, adding the Ship Owner's personal message and share it across their good fleet and crew, who were able to watch it via Evo News on their mobile phones and tablets, while offline!
In addition, it highlights the importance of the seafarer who is working hard, away from home this Christmas, for all of us to be able to receive, enjoy and share goods and gifts with our beloved ones.