Marpoint Crew Internet Services

The best effort of internet delivery describes the fundamental concept of any business existence to survive, thrive and grow. It is the source of life of every relationship both personal and professional, exceptionally for the isolated ones, across the seas. Crew internet has surely changed the seafarers' lives working on board.
---
Overview
This approach gives an extreme relief and improves the quality of life of the crew on board. Mostly because it connects the seafarers with their families 24/7 whether in the sea or in the port. Depending on vessel type and management decision, they can join socials networks and surf online through Wi-Fi or crew PCs . That said, till today over 65% of seafarers do not have internet access while at sea.
One of Marpoint's core business targets is to provide internet access, while equipping all type of commercial vessels with Wi-Fi access points. Initially, the wireless implementation has been deployed experimentally in our lab, in order to meet all the appropriate requirements.
Examples of commercial vessels that already enjoying Marpoint crew services are:
Cargo Vessels
Tankers
Bulk Carriers
Cruise Ships
Containerships
Fishing vessels
---
Marpoint specializes in providing IT solutions, based on customer's needs.
Major needs include:
Ship-to-shore & shore-to-ship connectivity
Always online
In dependency of airtime provider (Marpoint routers cooperate with the airtime provider of your choice)
24/7/365 fanatical remote support
---
The best solutions in the market today are:
VSAT (Ku or Ka)
FBB (Fleet Broadband)
Fleet Xpress
---
Marpoint's Assets
The lists below describes some of the company's privileges, in order to offer high quality internet services and management:
Advantages for ship managers:
Familiar User friendly interface
Management of Internet utilization (QoS)
Cloud & local Web and Content Filtering
Escalation policies determined for user categories and WAN interfaces such as FBB or VSAT
Depiction of live view consumed data and users action
---
Advantages for the crew:
Businesses superiority for competing packages
Prioritized QoS for Internet cards can have access, simultaneously
Remaining balance and session log via customized HTML internet web page
BYOD (Bring your own device)
Flexibility of Pin-based and User-based internet cards creation, on shore or even on board
---
Explanation of Marpoint's Management System Crew Internet – Hotspots Cards User Interface
Scenario 1 – User-Based Hotspot cards
Client has Imported the company's crew list (from an excel template) or added individual users to our customized user interface. Users added have been assigned to function to a specific vessel or the entire fleet of the company depending on company preference. Upon creating the user profiles of their choice: i.e

– Package 1 – Auto Renewal of MB each month
– Package 2 – transfer of remaining MB to next month's package

They have set the limits of Expiration Date, Total Traffic and Total Quota of MB per day or hours
Client has chosen to enable the carry out of remaining MB to next month, so as crew can use their Internet card data also on next month.
Crew members/Users have the ability to check or renew user card via custom local website "i.e hotspot.local"
Users choose different TopUp packages of MB according to company's policy
Profile and TopUp statistics are visible in the user-friendly web control panel dashboard where IT administrators can check and export reports in excel format in relation to real-time download and upload data.
Renewal card history is recorded and categorized by date, vessel, profile, username or TopUp package. Again, IT admins can check through web control panel for each user, analytically.
Crew members/Users could request for a new Top-Up package via local website and search their usage history via local website "cardstatus.marpoint.gr"
---
Scenario 2 – PIN-Based Hotspot cards,
Crew members request from the captain of each vessel to buy a crew internet card out of the available packages provided by the company:
Captain is responsible for collecting card cost from each crew card sold and to report it on the vessels MGA account.
Crew internet cards are valid for 30 days since activation as they are sold at very competitive prices by client.
An overview status of the cards can be seed on the dashboard of the web control panel which depicts the batch series, PIN, password, status, expiration date.
Accurate illustration of a graphical chart of the overall hotspot traffic, for any given timeframe.
---
Scenario 3 – PIN-Based through Application – using API
Client has been provided with the Application Programming Interface (API) and developed/integrate it with his CRM for creating and billing automatically crew internet cards.
Customer has customized the Graphical User Interface (GUI) according to his requirements.
The main part of the of the API provided included the card creation module, plus the components of the PIN-Based hotspot card system, which can be modified.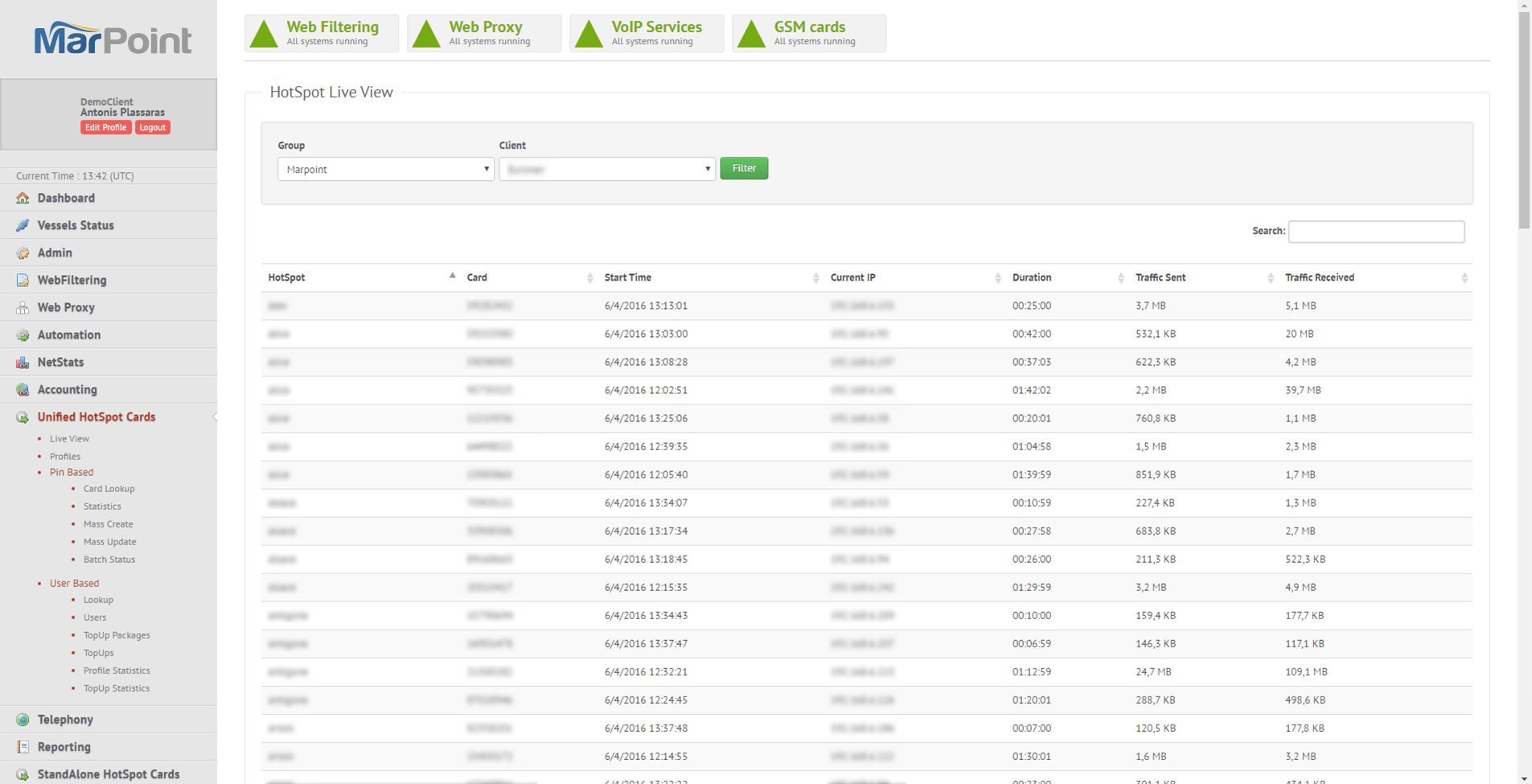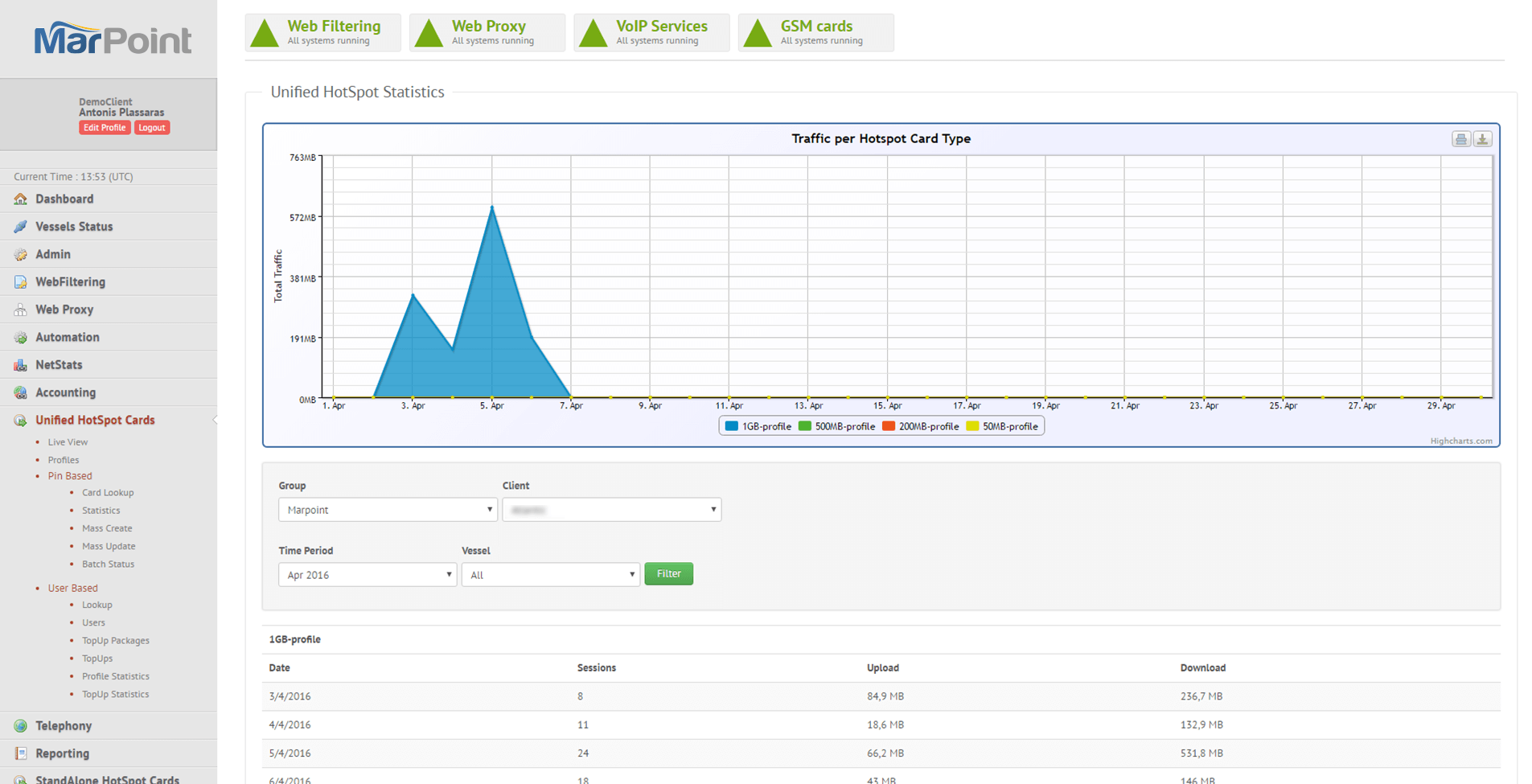 ---
One of the most interesting aspects of VSAT is that the pace of technological change and the bandwidth need will definetly increas in the next years. Specifically, the rising bandwidth capacity will activate vessel operators to stream live data in real time and use more applications. Consequently, we have to be prepared for this new coming, thus offering real customized crew internet solutions for all vessel types and all types of airtime internet providers. This is only the first step towards vessel and crew internet modernization.
---