A Global Evo News Crew Welfare Initiative
Marpoint's Christmas 2021 Campaign for Seafarers
This year Marpoint took the initiative and created an exciting short video that was shared with more than 10000 hard-working seafarers via their favorite Crew Welfare platform, Evo News.
This video pays a special tribute to seafarers amid these COVID-19 challenging times.
In addition, it highlights the importance of the seafarer who is working hard, away from home this Christmas, for all of us to be able to receive, enjoy and share goods and gifts with our beloved ones.
More than 50 Shipping Companies worldwide had the opportunity to present this video as their Christmas corporate video, adding the Ship Owner's personal message and share it across their good fleet and crew, who were able to watch it via Evo News on their mobile phones and tablets, while offline..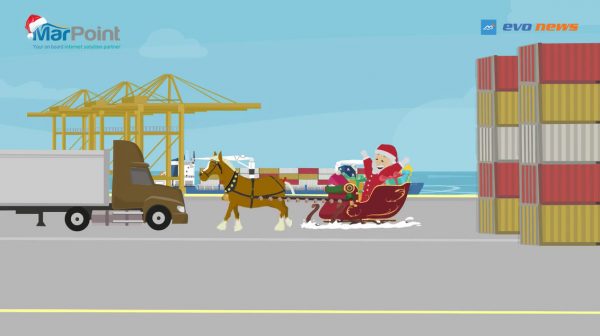 This initiative was massively embraced by Seafarers worldwide who in return expressed their gratitude to their Shipping Company; at this point we would like to share some of their representative statements: Spending so much time away from home, I am deeply touched by your personal message and this illustrated way to show us how much you care… best wishes for a Happy New Year! Having finished my shift I opened Evo News to review some sports results and was excited to watch this video! You made me feel special and unique, you give us strength to continue our demanding mission in these hard times, may God bless you and keep you safe ! We welcome this Christmas initiative that was successfully watched and appraised by all crew on board the vessel, what a gesture!
Our best wishes and Season's Greetings to all the staff shore-side and the Management of the Shipping Company.
This Holiday Season, Seafarers matter the most
We would like to warmly thank the Ship Owners, IT Managers, DPAs and Crew Managers that have embraced our Evo News Christmas Initiative.
Evo News will continue and expand its mission, which is to provide a unique experience of Crew Welfare and entertainment onboard, as well as a social hub between the Shipping Company and its people.
Enhance and expand your company's corporate news, announcements and interaction with the Seafarers by sending them video material that they can watch onboard and while offline!