Maritime cellular connectivity is evolving to meet new challenges
Answering
Top 5 Questions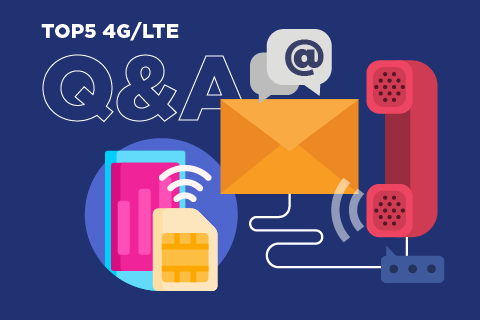 While VSAT remains the primary means for open-sea connectivity, satellite communications can be slow and expensive. In that respect, shipowners are investing in 4G/LTE connectivity, providing a low-cost, high-speed connectivity alternative to their vessels, which can be used more than 20 miles offshore. 
4G/LTE can offer much higher speeds at significantly lower cost to satellite, enabling the next wave of maritime communications. 
4G/LTE is ideal for remote inspections, video conferencing, updating servers onboard, sharing video content, VoIP telephony, replication of databases and other internet communications. 
At this point, we provide answers to the Top 5 customer questions in relation to the use of 4G/LTE for maritime: 

1. What is my range when using 4G?
With the ongoing developments in 4G/LTE networks, Router Equipment and Antennas, vessels can now comfortably connect more than 20 nautical miles offshore.  Furthermore, in countries where operators are using new LTE bands in the 600-800Mhz range (e.g. Australia), the range can double!
4G/LTE services deliver fast bandwidth with low latency, as long as vessels remain within network coverage. Outside this coverage, vessels need to revert to satellite communications.

2. What speeds can be achieved?
This depends firstly on the quality of the networks. Being in Singapore or Australia near-shore one can achieve 100Mbps download or more. In other countries, it can be much less. 
Another factor is the type of vessel, where higher and larger ships enable a higher and more stable placement of antennas and thus higher speeds.  
All the above assume enterprise-grade routers combined with high gain antenna equipment, like our all-in-one Marpoint outdoor IP68 Heavy Duty 4G Router. 

3. What if my vessels sail between countries?
Marpoint Outdoor 4G Router is powered by our Global Sim that Offers 4G/LTE coverage in 100+ countries throughout Europe, USA, Caribbean, selected Asian & Oceania with Pay as You Go and Pool Data packages. 
In that respect, communications can run seamlessly as your vessels move between territories with 4G/LTE delivering a secure and flexible near shore network solution which adapts as your vessel moves – changing networks seamlessly. 

4. What about my vessel's Satellite Connection?
Satellite connectivity will not turn into a slow-moving domain due to its importance on the open sea. However, more ship owners combine both options on board in such a way that the most economical connectivity option is used first. 
Our Outdoor IP68 Heavy Duty 4G Router can be used as a reliable data WAN communication backup solution when satellite communication is not available. 
This networking approach may assist IT, staff and crew, onboard to complete their work unhindered by connectivity issues, while security and operational processes can be optimized. 

5. How do I control usage?
All our Marpoint solutions are accompanied by fully customizable (not black box) management user interfaces. 
Our Outdoor IP68 Heavy Duty 4G Router and Global Sim are remotely managed by our customers via the web Management Platform.
You can use the web-portal to check Vessel Status (online/offline), create users, manage the bandwidth consumption per vessel, as well as per country usage, to trigger alerts and with live CDR. 
4G/LTE WAN communications technology products
Offers coverage in 100+ countries throughout Europe, USA, Caribbean, selected Asian & Oceania
Contact us today to demonstrate you how 4G/LTE communication technology can help you unlock new connectivity applications that will transform your vessel operations!