Evo2 Platform on Eastern Mediterranean vessels equipped with FleetBroadband (FBB)
---

Before the first Evo2 router deployment, we were not aware of a maritime router that would be able to provide so efficient bandwidth optimization and quality of service, as well as optimum firewall management and fast failover functionality over FBB terminals. With the Evo2 router and Hybrid PBX, we managed to combine Business and Crew Internet, VoIP and Voice calls. This was an important breakthrough for our company if we take into consideration the speeds and costs of satellite networks. George Proviadakis / Purchasing Operator
---
OVERVIEW:
The company wanted to modernize vessel ship-to-shore and shore-to-ship communications as well as promote crew welfare. Many of the vessels were already equipped with FleetBroadband (FBB) units, thus the company required a reliable solution to combine them, while maintaining tight budget. Existing vessels communication equipment was efficiently utilized by I.T. department to enhance the vessels business communications and provide Internet to EastMed crews.
PROBLEM/NEED:
1.

Use existing FBB Equipment keeping down costs

2.

Modernize communications

3.

 Provide internet access and cheaper communication to officers & crew
---
SOLUTION:
Eastern Mediterranean Maritime Limited (EASTMED)
 is a ships management company with head offices in Glyfada (Athens), Greece.
Presently the company has under management 70 vessels, employs 180 shore based
personnel and a further 1750 seagoing staff. The fleet comprises of 28 tankers, 32 dry bulk
carriers and 10 container ships, adding up to a total DWT capacity of six million tons.
http://www.eastmed.gr
---
RESULT:
1.

Independent of providers from Wi-Fi to VSAT to FBB to 3G/4G

2.

Always online… at all times thanks to Evo2 ability to prioritize and automatically switch between all WAN internet connections

3.

Bandwith management allocation

4.

Cost reduction
EastMed fleet is committed to continual improvement and reviews its assets, officers, staff and ways of working to deliver ever higher standards. The company is open and transparent in its dealings. The 21st century has laid down the challenge to the shipping industry to adapt and take its place in the modern globalized economy. EastMed gladly accepts the challenge.
EastMed's fleet should always be online! Business continuity and bandwidth management on board are the company's main concern, thus the need for the right "smartbox" to handle ship-to-shore and shore-to-ship communications was essential. The new Inmarsat packages offered larger data planned that allowed for not only upgrading the vessel communications but also to be able to offer internet/VoIP services to the crew "BYOD Crew internet" & "Crew Voice". Keeping that in mind, the IT department was looking for a network solution that would be able to offer this kind of services regardless of the satellite provider the Management would choose to cooperate with.
---
The Need for Connectivity
With such a respectable company, as EastMed, cooperation between all involved departments was critical. Marpoint support team, who are responsible for configuring the on-board network, developed a fully automated software that can control all possible connections for EastMed's sea-going operations.
---
Evo2 Platform
FleetBroadband (FBB), VSAT, 3G/4G, Wi-Fi, Firewall, Crew Hotspot, Crew Calling and Network Solution
EVO² is a powerful, secure and affordable enterprise-grade router for controlling a multi-person vessel network on all satellite Internet installations.
Offers operational efficiency, network control, crew hotspot & crew calling access for your FX,FBB,VSAT,3G/4G data services including BYOD functionality.
EVO² router and web-based platform, makes airtime count for the unique needs of maritime users.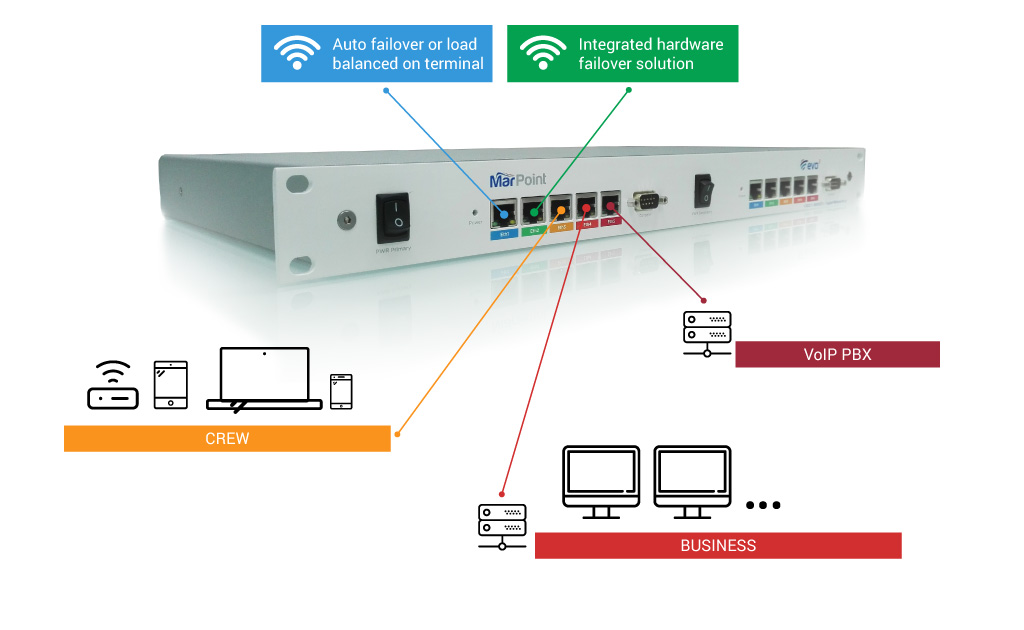 Evo2 is the perfect solution for commercial vessels using satellite internet services.
---
Marpoint's Advantage
Working remotely, Marpoint installation was completed with minimum traveling or engineer costs. Now, seafarers on the EastMed's vessels have the privilege to be able to surf the web and communicate at a very low cost with their families by utilizing the crew internet and VoIP services on board.
At the same time EastMed's IT department managed to utilize the airtime packages for business use, emails, corporate VPN, operations as well as get significant return on the expensive satellite communication packages.